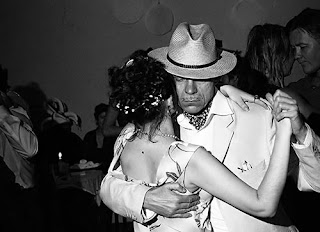 I have been so busy of late evangelizing about close embrace that I missed a gift occasionally offered by some of my partners. While it's true that I enjoy being held close for tanda after tanda - there is a beautiful sensation that can come from a slightly more elastic embrace.
I noticed it when I was dancing Saturday and my partner opened the embrace a bit to make room for a step and a turn. I opened my eyes a second just long enough to notice we were indeed turning and then settled back into the embrace.
So why was I able to stay in my coveted state of entrega for that - but I got jolted out of it other times? I think it's the way the opening is handled. Well, more accurately, the way
I'm
handled.
When my partner opened the embrace, his arm around my back actually became firmer, more present. It was reassuring. Like a whisper in my ear, "I'm not letting go."
And then, when we closed the distance again, he held me a little closer for just a second before we settled back into our regular embrace. I never had the sense of being dropped, or let go of.
Maybe, when done just right (and not for too long), distance
can
make the heart grow fonder.
(I can't for the life of me figure out where I found this picture -or I'd credit it properly. Does anyone know where it comes from?)