Periodically someone, usually a man, will be bring up the topic of "proper tango shoes." If he's referring to the problem (and dangers) of trying to dance in flip-flops, or mules, or platform shoes etc., those are definitely valid, and very helpful points to be made. The likelihood of damaging your feet is very high without the proper support of high quality shoes. My problem comes with the idea that the *only* proper tango shoes have 4" stiletto heels on them and fetish-worthy embellishments. (Okay, I'm pretty keen on the embellishments myself.)
"goofy ballroomy shoes are a turnoff... get rid of them..."
- Alex Tango Fuego (granted this is from 2007),
http://alextangofuego.blogspot.com/2007/10/to-dance-or-not-to-dancebrutally.html
And, in the comments on a blog post, Anonymous said... "
This is a controversial one. If a follower isn't wearing tango shoes then it's usually a good sign she's not particularly good."
From Ms. Hedgehog's post, "Diagonostics"
http://mshedgehog.blogspot.com/2010/05/diagnostics.html
So let's talk about shoes.
I have two pair of favorite dancing shoes. The first pair are Argentine (
Flabella's
) and they're incredibly sturdy. Not everyone likes Flabellas as they can feel a bit heavier than other brands. however, the padding is wonderful, and they're very stable. They're also quite plain. Black suede t-straps with a peep toe. That's it. They are almost identical (her's are closed toe) to those pictured below (it was hard for me to get a good picture off the video, so it's a little fuzzier than I'd like.)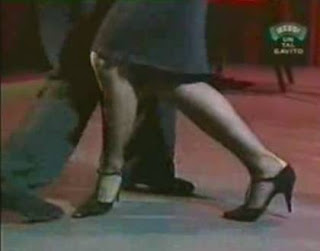 These are
real
tango shoes. Yet every couple of weeks when I first started wearing them, I would get comments like, "So when are you going to get
proper
tango shoes?" or some such crap. The woman wearing those shoes in the picture is Marcella Duran, partner of
Carlos Gavito
. If they were good enough for her, they're damn well good enough for me.
My second pair of shoes are *gasp* ballroom shoes. They're
Ziba's
from the
Elegance Company
, made in USA. They are the softest suede I've ever wrapped around my feet and they're adjustable at the toe box and the ankle. They completely conform to my foot. Like most ballroom shoes, they have a suede felt-feeling bottom that goes a little too soft pretty quickly, so I had hard leather "faster" soles put on and now they're even better (and I couldn't have imagined that possibility.) When my feet get too tired or too swollen, I switch to my Zibas because they're so soft and easily adjustable.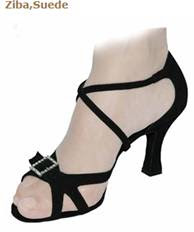 I will never be able to wear Comme il Faut's, for example, because they simply don't fit my feet well. Too narrow in the toe box and too wide in the heel. Period. They're beautiful and well-made and just not for me. I also don't need them to be a good dancer.
*/rant/*
What does bother me is selling 4+ inch stiletto heels to beginners who can't even complete ochos without picking up their heels from the floor. I've lost count of how many times I've been stabbed in the calf or the foot by the heel of a beginner teetering on her brand new Comme il Fauts because someone told her that she couldn't learn to be a
real
tango dancer without them. (I know this because I was told this by at least 3 people.) So now, while she struggles with just being able to walk backwards gracefully, she is also having to learn how to walk in probably her first pair of 4" stiletto heels. Thanks a lot for putting a weapon of mass destruction on the floor.
Meanwhile all you stiletto-tango-shoe-obsessed gentlemen can ooh and ahh over her shoes while the rest of us cringe at the waist high, out-of-control boleo she just executed,
unlead
.
*/end rant/*
I was talking to one of my teachers who's been teaching tango a couple of decades, and dancing far longer of course, and I asked her what she thought of the tango shoe issue. She said if you can find shoes that fit your feet very well, slide easily against the floor, are thin enough to feel the floor and are secure on your foot - it doesn't matter if they're tango shoes or not. They can come from Payless Shoes for all that matters. If they feel good to dance in, then they're good for dancing, no matter what brand they are. As far as specifically tango shoes go, I am glad to see that some tango shoe companies have pretty options in lower heels, particularly
Greta Flora
,
Darcos
, and
Neotango
.
So gentlemen, if you are assessing a dancer's prowess by her shoes, I feel a bit sorry for you. You're going to miss out on some gorgeous dances. Instead of looking for the most embellished, colorful, high heeled shoes - try another tactic to find the best dancers. Look for the shoes that look most worn, most loved and lived in. They may be a little faded, or scuffed, or a bit rough around the edges, but I would bet that the owner of those shoes has put on the miles on the floor.
A couple more things . . .
- Willingness to plunk down a couple of hundred dollars for a pair of tango shoes does not in anyway correlate to one's commitment to the dance. I've seen plenty of beginners get their shiny new stilettos and quit tango a month later.
- Tango shoes don't make a better dancer. Shoes that fit well and feel good dancing, do. A lot of times those are tango shoes. Sometimes they're not. You won't know until you dance with her.