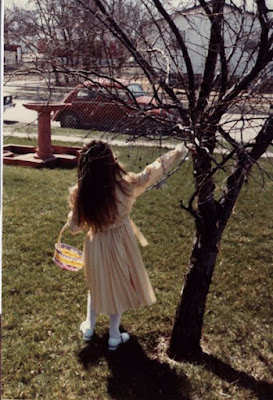 For the first 10 or so months in my tango life, I had the unshakable, sometimes paralyzing, feeling that I was really only impersonating the woman I wanted to people to see. I was playing dress up in a real dancer's clothes. I was deeply afraid of being found out. Looking at myself in the mirror constantly reminded me I was trying to hide. I wanted so very much for others to see this person I'd made up, a confident, graceful dancer - not the woman I saw reflected back at me.
The person I saw in the mirror was, and occasionally still is, caught in the picture of a stinging childhood epithet, "ugly, little geek." Whenever I looked in the mirror at my posture, or my walk, I'd ask myself who I thought I was kidding. What did I want to accomplish so badly? The phrase kept repeating in my head as I tried to look feminine, graceful and strong. Sometimes, though rarely now, it's still in there whispering in my ear . . .
Ugly.
Little.
Geek.
It was meant to be a playful tease, not serious at all. It was the sort of thing children, particularly boys I think, tend to say to one another. Playful insults were just that - playful. But I was a girl. And this had come from my father, from as far back as I could remember. For him it was a type of endearment like, "it's just you and me kiddo." He would come home from work, give me a hug and say, "How are ya, my ugly little geek?" I never felt that he truly believed that those words applied to me, as such. We had a lot of time where it was just him and me and he fostered a bit of an "us against the world" sort of attitude. My childhood was divided between my grandparents' house and my father's house (through his 3 marriages). We both felt at times like we were misfits. A little misunderstood. A little bit adrift in the world. A bit too smart, and bit too odd, to fit in.

I knew what he meant. It just didn't help.
I knew it was only a nickname and I would even laugh when he said it. I knew my father didn't think I was ugly. But I never felt that he thought I was pretty either. Until I got past my teens, I was underweight, frequently sick, exceedingly clumsy. Growing up, I mainly just tried to blend in. I believed that not being noticed was probably the best I could hope for. So I tried very hard to strike a balance between not wanting to stand out, and trying desperately to develop some grace, mainly in the form of dance classes in school. No matter how competent I became in my dancing, I never equated that competence with feeling graceful personally. I did get less clumsy. And I got stronger. I could "put on" gracefulness for the class, or for the performance - but it didn't really feel like me. It was a costume.
When I started tango, it was much the same for a long time. I still felt unattractive, incapable, ungainly. Over time, though I'm not sure exactly when, I stopped feeling like I was wearing a costume. The feeling I enjoyed dancing in the milongas started staying with me longer and longer. My coworkers told me that I walked differently, that I seemed like a different (more relaxed, more comfortable) person. I was starting to feel moments of grace and beauty at those times when I was trying least to "be" beautiful - mostly when I was in the moment of connecting, of dancing, of relaxing deeply into myself and my surroundings. I was traveling fully in my own skin - not trying to camouflage myself into the background.
I started to
face myself in the mirror
. My ideas of what the requirements were for being beautiful changed. I remember seeing a very advanced tango dancer at the end of a milonga laughing about a hem that had come loose at the bottom of her dress. She sat on a bench with her friend giggling over the hem, the new hole in her stockings, and with her hair down and falling a little bit over her face, she was stunningly beautiful. Radiant, almost serene, and yet laughing from the core of her body. At the end of most milongas, I can look around at the other followers who had made it to the end, and we frequently look a sight. Hair falling out of clips, matted to our foreheads, make-up mostly gone, stockings laddered, blissfully exhausted and lovely. I see those moments a lot in so many dancers, in so many milongas.
So maybe I've finally traded in my old moniker for one that really describes me.

Tango dancer.
Incipit vita nova.