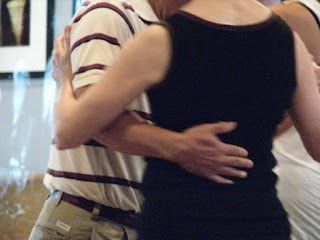 I finally braved it and took two workshops/classes from Silvina and Oliver while they were here in Austin. I'm still trying to absorb everything. Overall, I really enjoyed the classes and I'm continually finding ways to apply what I've learned.
Their approach to structure (which I've written a bit about in response to other posts on Tango Connections) is invaluable. They began the class elaborating on the idea that executing a lead, response to a lead, or series of steps sloppily or in a way that disregards the basic structure of the dance -
and then saying 'that's just my style' or 'I'm expressing myself'
- just won't cut it. There are expectations that "this movement" leads to "that response". For the dance to work socially, on the milonga floor, it has to be that way. Within the few basic movements, forward, back, open - the entire dance is built with almost limitless possibilities.
They went on from there to having dancers connect with the steps and patterns with their entire body engaged - not just an emphasis on foot work - but also on posture, core strength, looking at the amount of space you physically take up in executing a step, and trying to be as compact as possible (for maintaining the most control.) From there they focus in on smaller and more specific areas of technique for boleos, giros, traspie etc.
That's the good news.
Not all of the class time was fun.
My partner and I were having trouble with traspie/milonga steps and I asked for help. Oliver told us to demonstrate in the middle of room (in front of everyone of course). Before we could take more than 3 steps, Oliver shouted "stop!" He strode up, pointed to my hand on my partners shoulder and said:
"Everyone look at this! This! (as he pointed emphatically at my hand.) This is caca! This is what not to do!
This is not an embrace - this is caca!
"
At which point I wanted to curl up and die.
But I couldn't because we were still in the middle of the dance floor in front everyone. Oliver took my offending hand and placed it just to the side of my partner's should blade. He then told us again to demonstrate. While he was right, it was easier to feel my partner's lead - I was so nervous, I still couldn't follow even the most basic lead. So Oliver and Silvina split us up and danced with each of us for a few seconds. Of course I could follow Oliver a bit better because there was absolutely no hesitation in his lead - and he left no where else for me to go (honestly I was afraid not to follow him correctly for fear of being called out even more.) When we finished he told me that I could follow the steps with a more experience leader, but I was too hesitant when the lead was a little "softer" or more uncertain. In the absense of a very strong lead (which took away my options for other steps) I would shift weight without my partner out of anxiousness.
At that we returned to the circle with the other dancers. In that moment, I was certain of two things. I was never going to ask for help again and I wasn't going to dance another step (with a partner) in the class. I was sure my partner hated me and would never want to dance with me again after embarassing him.
I sat down and sat out. So did my partner.
He got his nerve up before I did, and got back on the floor. I was fighting back tears.
Another dancer, one that I admired but hadn't danced with, came and asked me to dance. I declined. He chided me (very gently) for letting the experience sideline me and he asked me again to dance. This time I said yes. The first dance, I did ok - better than I had in the middle of the dance floor.
When the song ended, he asked if he could give me a small piece of advice, and I said yes, please. He told me that if I landed my steps more strongly, it would help the leader know that I was where I was supposed to be so that he could continue the sequence. He asked me to trust myself. When the music started again, I landed the steps as though I knew I was doing exactly the right step. I was still rough, but I was getting it.
The moment of wanting to give up, passed. I was back in the game. When we finished dancing, I thanked my partner and told him if he hadn't persisted, I would have given up. I still don't think I can thank him enough. By the time the milonga came around that night - my spirits were greatly improved and I was dancing with everyone - even the partner I was sure would never dance with me again.
(Pictured at the top - the embrace that is not caca.)